Business-Biosimilars-AbcixiRel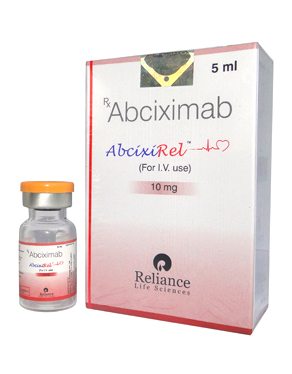 AbcixiRel is the first monoclonal antibody from Reliance Life Sciences (RLS) and the first Indian abciximab biosimilar.
AbcixiRel is the FAB fragment of the chimeric human-murine monoclonal antibody 7E3. Abciximab binds to the glycoprotein (GP) IIb/IIIa receptor sites on activated human platelets and inhibits platelet aggregation via fibrinogen binding. Abciximab also binds to the vitronectin (avß3) receptor found on platelets, vessel wall endothelial cells and smooth muscle cells.
AbcixiRel is indicated as an adjunct to percutaneous coronary intervention (PCI) for prevention of cardiac ischaemic complications in patients undergoing PCI and in patients with unstable angina unresponsive to conventional medical therapy when PCI is planned within 24 hours.
Abciximab has significant advantages compared to other molecules of same class like Eptifibatide and Tirofiban. Besides inhibition of platelet aggregation, abciximab has multiple benefits like anti-inflammatory effects and prevention of PCI related vessel wall hyperplasia and restenosis, and curbing of bleeding complications etc.
AbcixiRel is a clear, colourless, sterile, non-pyrogenic solution for intravenous use. AbcixiRel (2mg/ml) is available in 5 ml vial containing abciximab 10 mg.