Businesses - Clinical Research Services - Services - Clinical Trial Supplies Management
Clinical Trial Supplies Management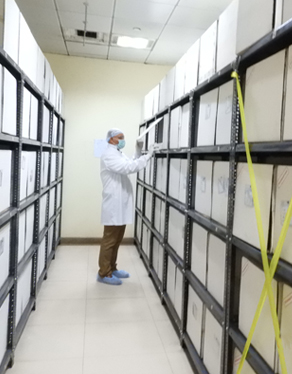 Reliance Life Sciences offers facilities to store clinical supplies under customer-specified conditions with complete access control and disaster management and recovery processes. Supply distribution is tracked through delivery to sites in accordance with Reliance SOPs.
Reliance Life Sciences can store:
| | | |
| --- | --- | --- |
| Plasma | CSF | Stem cells |
| Genomic DNA | Bone marrow | Biopsies |
| Serum | Tissue specimens | Drugs |
| Biologicals including vaccines | Medical Devices | Kits |
Facility:
Ambient temperature Area: +15 °C to +25 °C
Features:
Centralized AC
Digital data logger
Cold Rooms: +2 °C to +8 °C, -20 °C
Deep Freezers: --20 °C, -70 °C
Features
2 HP hermetic sealed compressor
BMS & thermograph chart recorder
Facility features:
Internally illuminated
Anti-locking mechanism for user safety
Automatic defrosting cycle for cold rooms
3 tier power backup
On-line temperature & circular chart recorder
Separate racks for different material
21 CFR Part 11 compliant temperature monitoring system
Computerized Building Management System
2HP hermetic sealed compressors per cold room - 1 functional, 1 stand-by
Audible alarms and LED display
Central Pharmacy Services:
Packaging and labelling of each sample as per randomization schedule
Dedicated pharmacy services and dispensing facilities for solid, liquid and parenteral dosage forms
Abundant sample archival facilities with temperature monitoring systems and back-up generators.