Business-Regenerative Medicine
Regenerative Medicine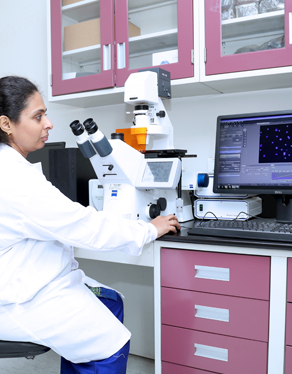 The Regenerative Medicine Group in Reliance Life Sciences is involved in cord blood banking and developing a wide range of novel research-led, autologous and allogeneic cell therapies and tissue engineered products, with the objective of bringing about an era of regenerative medicine by unlocking the potential of human pluripotent stem cells. Given the huge disease burden and the need for affordable diagnostics and therapies in India, the Group aims to come up with better and cost-effective ways to treat people with unmet medical needs.
Cell-based therapies from Reliance Life Sciences aim to meet unmet patient needs in the areas of:
Hematopoietic disorders
Hematopoietic malignancies
Cardiac Disorders
Ophthalmic Diseases
Neural Degeneration
Spinal Cord Injury
Large burns
Metabolic Disorders
Non-healing Diabetic and Venous Ulcers
Bone and Cartilage Disorders
Under the Regenerative Medicine initiative, the focus is on the following:
Research and Development in the areas of:
Human Adult Stem Cells such as Mesenchymal stem cells and Hematopoietic stem cells
Live Skin Substitute
Banking Services provided for:
Stem cell enriched cord blood banking
Human peripheral blood stem cell banking
Human umbilical cord tissue banking
Human bone marrow mononuclear cell banking
Human mesenchymal stem cell banking
Human adipose derived stromal vascular fraction cell banking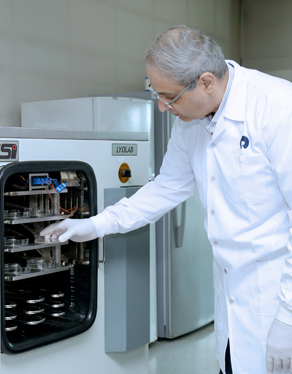 Stem Cell Clinical Trials
Reliance Life Sciences has established the safety and efficacy of the following cell therapies in clinical trials:
Autologous bone marrow derived mesenchymal stem cells for:

Cardiac disorders (CardioRel®)
Neurological disorders (NeuroRel)

ReliNethra®: Autologous composite limbal epithelial graft for treating Unilateral Limbal Stem Cell Deficiency.
ReliNethra® C: Autologous conjunctival epithelial graft for treating conjunctival disorders.
Reliance Life Sciences has received approvals from DCGI for conducting clinical trials for the following indications:
Type 1 Diabetes Mellitus
Ischemic Limb Disease
Graft Versus Host Disease (GvHD)
Chronic Kidney Disease
Reliance Life Sciences has the following clinical trials in pipeline:
Regulatory Approvals
The various stem cell-based activities undertaken by the Group are approved and monitored by an Institutional Committee for Stem Cell Research (IC-SCR), which is registered with the Indian Council for Medical Research (ICMR) in accordance with the existing regulatory guidelines. In addition, the Institutional Ethics Committee, which is registered with Drug Controller General of India (DCGI), also reviews the research and the clinical study activities of Reliance Life Sciences.
Cells available for research are:
In-house derived Human Embryonic stem cell lines (Relicell®hES1, Relicell®hES2 and Relicell®hES3). These cell lines are registered with International Stem Cell Registry (UMASS, USA)
Human umbilical cord tissue derived mesenchymal stem cells (UCMSCs)
Human umbilical cord blood derived hematopoietic stem cells (CD34+ cells)