Business-Biosimilars-ReliGrast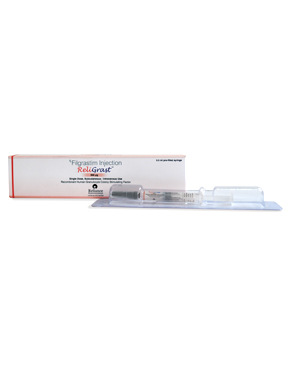 ReliGrast is human recombinant Granulocyte Colony Stimulating Factor (G-CSF), which is a specific growth factor known to stimulate production of neutrophils, a type of white blood cells in the body that are essential for fighting infections. It is active during the normal course of hematopoiesis and the hematopoietic stem cells get differentiated into white blood cells in the presence of G-CSF.
G-CSF is a protein having 175 amino acids, and has no glycosylation. E.coli is used for commercial manufacturing of recombinant G-CSF as a biosimilar. ReliGrast can be therapeutically used for reversing neutropenic conditions due to various reasons. It can be used in chemotherapy induced neutropenia, AIDS-associated neutropenia, congenital, cyclic idiopathic neutropenia. In the clinical trials conducted, ReliGrast has demonstrated efficacy in reducing the duration of Neutropenia (compared to 9 days) and recovery after ANC Nadir. The reduction in the incidence of Febrile Neutropenia, Grade 4 Neutropenia and Infection is also significant.
ReliGrast is available in the strength of 300 mcg/0.5 ml, as a pre-filled syringe.