Businesses - Biosimilars - SomatoRel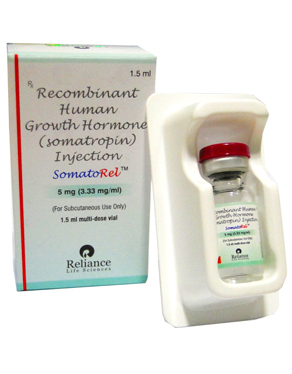 SomatoRel (r-hGH), a recombinant human growth hormone (r-hGH) is a similar biologic to innovator somatropin. It has been produced by recombinant DNA technology using genetically engineered Picha pastoris cells which have been transformed with the HGH gene and cultured in fermentors. The recombinant HGH protein has an amino acid sequence that is identical to the natural sequence predicted from the human DNA sequence analysis.
The overall molecular weight of recombinant HGH is approximately 22 kDa.
SomatoRel (r-hGH) is indicated for the treatment of pediatric patients, with growth failure due to inadequate secretion of endogenous growth hormone (GH), with short stature associated with Noonan syndrome, Turner syndrome and with short stature born small for gestational age (SGA) with no catch-up growth by age 2 to 4 years.
The dosage and administration schedule of SomatoRel (r-hGH) should be individualized based on the growth response of each patient.
SomatoRel (r-hGH) can be stored for 24 months at 2° to 8° C from the date of manufacturing.
SomatoRel (r-hGH) is supplied as a sterile solution for subcutaneous injection at a strength of 5 mg in a vial and is meant to be delivered in multiple doses.