Business-Pharmaceuticals-TemoRel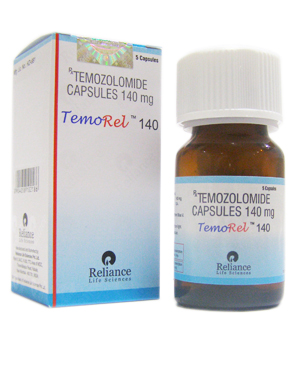 Temozolomide is a prodrug, orally administered alkylating agent of the imidazotetrazine class, rapidly and completely absorbed, at physiological pH, spontaneously hydrolyzed into the active metabolite.
Temozolomide capsules are indicated for the treatment of adult patients with newly diagnosed glioblastoma multiforme concomitantly with radiotherapy and then as maintenance treatment. Temozolomide capsules are also indicated for the treatment of adult patients with refractory anaplastic astrocytoma, i.e. patients who have experienced disease progression on a drug regimen containing nitrosourea and procarbazine.
TemoRel is available as capsules of 5 mg, 20 mg, 100 mg, 140 mg, 180 mg and 250 mg, which includes two unique strengths - 140 and 180 mg.
Reliance Life Sciences is the first company in India to launch Temozolomide in 140 mg and 180 mg strengths. With TemoRel 140 mg and 180 mg doctors now have options to provide best possible dosing to their patients including the ones with very high or very low body surface areas. These two strengths also provide convenience to patient and reduce number of capsules to be taken per dose.